BREEDERS PROGRAM
We are looking at starting a new Breeding Program the Otopharynx sp. Auromarginatus Margrette is a species that have nearly disappear from the hobby and we are looking at sourcing around 50 fry around the 4.5cm to get them back into the hobby
Otopharynx sp."auromarginatus margrette", male from Likoma Island.
Trade names and synonyms
Otopharynx sp."auromarginatus margarette blotch"
SIZE AND APPEARANCE
can reach a maximum size of approximately 18 cm (7 in.). Males are entirely blue except the belly which is bright yellow, dorsal- and anal fin have yellow seems. Females are silver-coloured with a suspicion of green shimmer on the back.
FOOD
In aquarium is shrimp mix the best food. In the lake it is searching for food in the bottom substrate. Schools of females and non-territorial males could often be seen together feeding on plankton.
AQUARIUM
Should not be smaller than 350 litres (75 gal.).
HABITAT
Occurs in the intermediate zone between rocks and sandy bottoms.
BREEDING
Fairly easy to breed if it is kept with at least two females per male.
GENERAL
Otopharynx sp."auromarginatus margrette" is a very colourful and beautiful cichlid, which the cichlid exporter Stuart Grant describes like this:
"This fish O. auromarginatus is truly an attractive fish when seen in the lake in full colour. We ship a small but steady number to most importers. Even from the wild at the moment of catching the females especially can have a "hollow belly" – this is something that we try to improve here in the fish house with generous feeding. The colour can fade in captivity but certainly it will recover the colour when in an established tank where it can become fully adjusted. Collection is done at Likoma island only – although other O. species exist elsewhere."
DISTRIBUTION
The only known population occurs around Likoma Island.
As announced in the February 2004 edition of the Cichlid Circular, the NSWCS has instituted a species preservation programme for the following species: These fish are currently in very low numbers in Australia and an effort to restore them to the hobby is particularly important.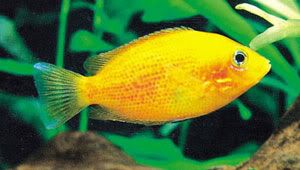 Etroplus maculatus – Orange Chromide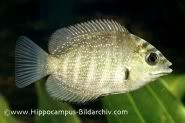 Etroplus suratensis- Green Chromide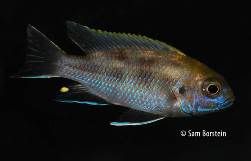 Pseudotropheus livingstonii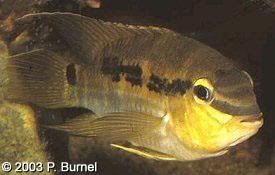 Krobia itanyi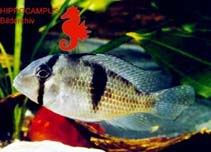 Gulanacara geayii – Panda/Bandit Cichlid
To this end the NSWCS is proud to present its species preservation programme to encourage its members to dedicate a spare tank to one of the above species If you breed these fish, selling them through the club will get you » 2 points in the Breeders Awards competition » Exemption from all limits in both the Mini Auction and the Major Auction » Waving of the 10% commission The above fish will be on the list for at least 12 months and may be sold at any meeting where the normal sales apply i.e. Mini Auction, Major Auction or through the Trade Table. During the course of 2004 new fish may be added to this list by the sub-committee overseeing this programme. If breeding stocks of any fish on the list reach acceptable levels these fish will be removed from the listing in the February editions of the Cichlid Circular.